The Future of Ad Spying
Access the largest library of top performing ad copy, creatives, landing pages, and more. All in one place and easy to sort through in seconds.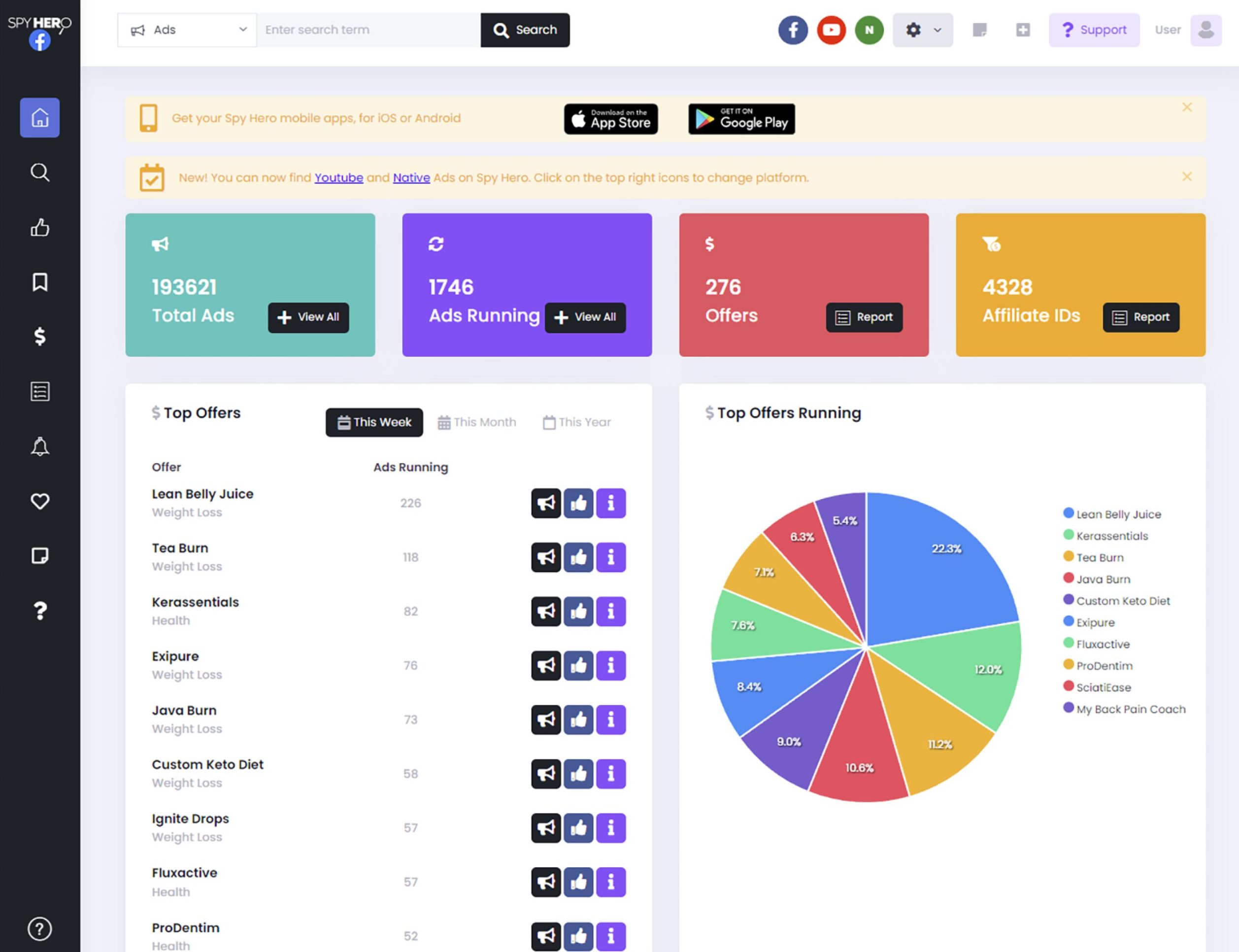 Largest Ad Library
With over one million profitable ads currently in our database, Spy Hero offers the largest ad library out of any spy tool. Plus, Spy Hero also includes ad copy, headlines, ad creatives, landing pages, fan pages, and so much more.
Easy Trend Analysis
With our easy to use, highly flexible search function, you can spot winning trends in the marketplace in seconds. Maximize your profits and scaling by staying ahead of the curve.
Top Traffic Sources
Between Facebook, YouTube, and Native Ads, Spy Hero offers you deep insight into the most powerful traffic sources available right now.
Save Time
The average Spy Hero user saves upwards of 2 hours per day reviewing top performing campaigns and making decisions. This free time allows you to scale harder or step back and enjoy more time off.
Save Money
Tired of paying for three different spy tools to try to get all the features you need? With Spy Hero, you have the ultimate all-in-one spy tool. Cancel all your other subscriptions and save money while accessing more features than ever before.
Your Competitive Edge
Stop being a trend chaser and become the first to capitalize on key trends in the ad space. Spot key trends days, weeks, or even months before the competition and scoop up all the easy profits.
Tap into all the most profitable campaigns with one click.
Spy Hero collects and organizes all the most profitable campaigns currently running online and gives you the power to analyze them piece by piece.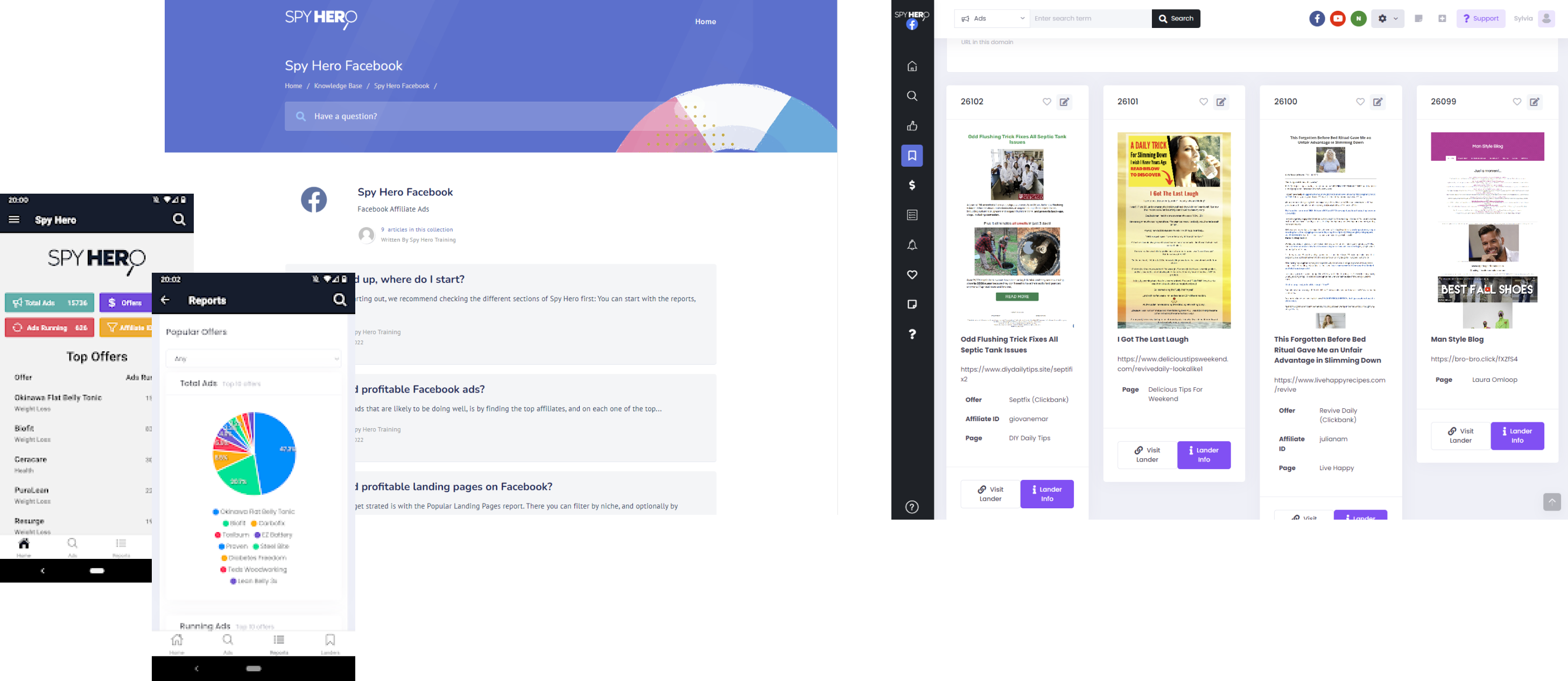 Hear from our loyal customers
Join these other advertisers just like you and start maximizing your profits.
Rodrigo
"Spy Hero is a must have tool for all affiliate marketers. It makes it easier and affordable for all level of marketers To get up to date data across all traffic sources. If you want to move faster than your competitors Spy Hero is definitely the answer."
Stephanie
"Spy Hero Is a game changer in Affiliate Marketing. This robust spy tool has helped me improve ROI and CTR's by knowing competitors' marketing strategies. I won't run ads without it."
Chuck
" Spy Hero is the best tool of its kind out there. The ability to search by niche or specific product is game changing. You can even find an affiliate and follow what they are testing day to day. It really does give you an unfair advantage in the affiliate space. "
Kenny Du
"Thanks to Spyhero for making me a Clickbank Platinum in 3 months. Hands down the best Spytool in the IM world."
Daz
" I've used several spy tools over the years. By far SpyHero is the best I've ever seen and used. With just a few clicks of the mouse I can see all the winning ads for whatever product I want to promote. I can quickly reverse engineer everything the winning affiliates are doing. Model from it and immediately be up and running with winning angles. With this tool I can see ad creatives, copy and the actual lander they are using. Plus, I can also drill down even further and find everything that particular affiliate is running. This saves me hours of research time. Now I get everything I need in minutes, not hours! SpyHero has been a game changer in my business. It's a must have if you want to succeed in affiliate marketing!"
Brian Klepacki
"SpyHero has helped me generate over $1m in sales in 2022 and it couldn't have been any easier. I got in there, found exactly what I needed for the offers I was running, and BAM... sales started flowing in. This spy tool took all of the guesswork out of creating ads which saved me a ton of time and money."
Timothy L
Robby Blanchard, Stop taking my money - LOL…. Seriously though… Already logged in and it looks like a great tool so I'm really excited for the rest of this year. I'm all tooled up! #spyhero
Brook H
...If you are not yet seeing the profits you want to see, spend the time looking at ads [through Spy Hero], reading other people's copy and tweaking your own. The time you spend researching ads will pay off 100 times over in the long run!
Shashank G
I just wanted to give a shoutout for Spy Hero! I have been using it for a few days now and I absolutely love it. It is THE BEST SPY TOOL EVER. I have used all the big names in the Spy Hero tool world, adn nothing compares even close to Spy Hero. I 100% recommend everyone to get a copy of Spy Hero. It has played a valuable role in helping me reach 10K a week.
Start spying in under 10 minutes
Free onboarding support available upon starting a free trial.